This tidbit comes to us courtesy of sogoodblog.com. . .
No matter what your personal politics are, don't you always wonder what really goes on in the White House? Here's what Bill used to do when Hillary was away. If she becomes our next president I'd imagine he won't be able to keep this hush-hush for long.
Quote from sogoodblog.com:
Meal the White House chef would secretly make for Bill when Hillary was away: 24 oz Porterhouse steak with Bernaise sauce and fried onion rings.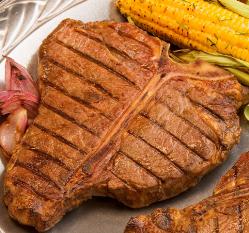 This cracks me up. Why was this such a secret? Was it the size of that baby that she was ashamed of? Perhaps she would have approved of something more dainty like a thin-cut ribeye or some beef tenderloin tips?
I say if you wanna hang with the big boys you'd better eat like one.
It makes perfect sense to me.