I love any recipe that has the word "crazy" in it. Check this one out from our friends over at foodbuzz.com.
It's craaaaaaaaaazy!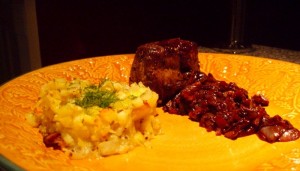 Crazy Steak and Potatoes
This ain't jo mama's steak and potatoes. Or maybe it is…who really knows. Let's find out. Still cooking for one this evening, but I misjudged some calculations in the process, so this recipe is written for two. Necessary items:
2 steaks, roughly 1/3 lb each (I used filet this time, but NY strip or rib eye would work just fine)
2 medium yukon gold potatoes, cube to roughly 1/4″
1/3 C chopped fennel bulb
1T chopped fronds from fennel bulb
1 shallot
1 carrot (I'm using a leftover carrot from last night)
1/4 C grated Fontina cheese (or Parm or whatever)
2 cloves garlic, minced
1/3 C red wine (whatever you planned on drinking)
1/4 C low salt beef broth
1/4 C low salt chicken broth
1T tomato paste
1T olive oil
1T heavy creme or whipping creme
1 1/2 T non-salted butter
2T dried oregano
Salt and pepper to taste
Take the steak out of the fridge. Turn the oven on to 400. Combine in medium bowl potatoes, fennel bulb (not fronds), cheese, 1 clove minced garlic, oil, creme, oregano, salt and pepper. Oil or spray w/ cooking spray the interior of 2 cylindrical pieces of metal and place in roasting pan that has also been lightly oiled/sprayed. Toss all the stuff in the bowl until well combined and then pack into the cylinders. Place in oven and set timer for 20 minutes.
Pour/mix a drink. Dice the shallot and carrot. Mince the garlic. Pat the steaks completely dry and salt and pepper each side. Heat a pan on medium high heat and melt the butter until just sizzlin'. Place steaks in pan. (Take a look here for a piece of equipment that will make your life easier for a recipe like this. It'll protect a lot of splatters and ease clean-up.) Turn the fan on 'cause if you're doing it right there's gonna be lots of smoke. Cook 3 minutes each on the long sides and then 1 minute each on the other 4 sides so you have a nice browned sear on each side. This should realize a medium rare steak. Not sure how to tell if your steak is cooked enough? Try this.
Turn off heat. Place steaks on a plate and tent w/ foil. Let the pan cool for 2 minutes. Place 1/2 T butter in pan and turn the heat to medium. [By the way the timer for the potatoes probably went off about right now. Turn the heat for the potatoes completely off and let them continue to cook.] Back to the pan – saute shallots and carrot until relatively soft. Add wine and broths, tomato paste, minced garlic clove, oregano and boil until reduced to half, stirring occasionally. Set to simmer and add steaks back to pan. Add 1/2 T butter and stir sauce, occasionally flipping steak to warm back up and finish cooking. Do this for 2 to 3 minutes.
Plate steaks. Take potatoes out of oven. Use spatula to ease them off the pan (still in the cylinders) and place down on plates. Press down on tops of potatoes and carefully remove cylinder. Spoon sauce over steak and plate. Chop and sprinkle fennel fronds over potatoes.
Eat up.
You can see the entire article here.
Photo courtesy of foodbuzz.com.