Over the holidays, we had a total of 18 people staying in a rented beach house. Plus, other visitors who did not stay overnight.
So . . . food had to be ready and available at all times. We couldn't keep enough of it around.
There were so many stomachs to feed and I heard the phrase "Salt water makes you extra hungry" more than I can count.
Thus, appetizers seemed to rise high on the totem pole fast because it appeared to tame the beast for a while.
Nothing like 18 fussy people on your hands.
We DID NOT want that.
We were there at the oceanside, so crabcakes seemed a fun thing to try. And they were a hit!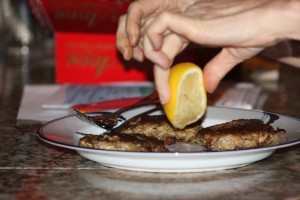 That's the only good photo I got because as soon as we put them out they got eaten. Well, devoured.
Here were the instructions for preparing these:
Preparing Crabcakes
Remove cakes from vacuum pouch and place on a plate. Put plate in refrigerator and allow cakes to thaw for 1 hour before cooking. In a medium saucepan over medium heat, add 3 tablespoons of oil or margarine. Place cakes in pan and allow to cook for 6 minutes on each side or until the outside of the cakes is golden brown and the inside is hot.
And that's exactly what we did. They were yummy. Crispy on the outside, tender on the inside.
Here's what they're supposed to look like if you don't have 18 impatient people salivating over the plate . . .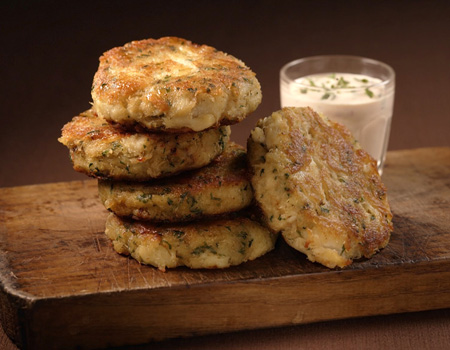 Nice, huh? Try 'em next time you have guests to feed.
They'll thank you by leaving you a plate full of crumbs.
Bottom photo and preparation instructions courtesy KansasCitySteaks.com.