Do you have an "outdoor kitchen?" You know, an area in your backyard where's there's a built-in grill maybe in some stonework, a refrigerator, some seating, perhaps a sink or a smoker.
Something like this.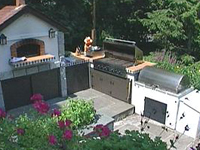 I don't. But I sure wish I did. Being grilling — especially steak — enthusiasts, we dream of an outdoor kitchen where we could hang out and really be one with the outdoors while we cook.
Well, HGTV.com has a guide for creating that outdoor oasis. It's got ideas, budgets, suggestions, etc. If nothing, I can at least dream of grilling my steaks in style, right?
And I can look at all the purty pictures.
Check out the article here.
And don't forget to invite me over when yours is built. I like ribeyes. And T-bones.
And bacon-wrapped filets.
Photo courtesy HGTV.com