Here's the scenario:  You've grilled up a beautiful T-bone. It's cooked just right — it's juicy in all the right places, it's seared in all the right places and the grill marks are outta sight.
What could possibly be good enough complement that? Or (gasp!) to sit on the same plate?
You'd better have a killer side, baby. That's all I've got to say.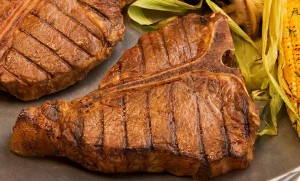 Psst. Yeah, you. Come here . . . closer . . .
Closer.
I'm gonna let you in on a little secret.
Try this . . .
Avocado Salad with Lemon and Olive Oil
Serves 6
2 cups finely chopped onion
¾ cup finely chopped red bell pepper
3 T finely chopped seeded jalapeno pepper
3 T extra virgin olive oil
3 T white wine vinegar
2 T fresh squeezed lemon juice
1 tsp Dijon mustard
¾ tsp sea salt
¼ tsp freshly ground black pepper
1 large garlic clove, minced
1½ cups chopped peeled avocado (about 2)
1 (8 oz) pkg. mixed greens (about 8 cups)
1½ cups grape tomatoes
2 T chopped fresh cilantro, optional
¼ tsp hot pepper sauce, optional
Combine first 10 ingredients in a large bowl; toss mixture gently. Cover and refrigerate 3 hours. Stir in avocado just before serving. Divide greens and tomatoes among 6 salad plates. Top greens with avocado mixture and garnish with cilantro if desired.