For our part of the world, school starts back today. And now that we're back in the swing of things, nighttime gets a little hectic with homework, soccer practice, dinner and bedtime.
So here's a great time-saving school night dinner to keep you going. Enjoy!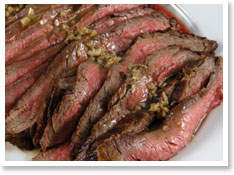 Steak with Garlic Sauce Dinner
Steak with garlic sauce is paired with sesame pea pods and rosemary bread for a memorable dinner. Great for any night of the week since it's ready in 15 minutes.
How to Do it in 15 Minutes:
Put up water for the pea pods
Broil the steak
Make the garlic sauce while the steak's cooking
Make the pea pods
Prep the bread
When the steak is finished, toast the bread
Four ingredients never tasted so good (not including oil, salt, and pepper.) You'll find yourself using the garlic sauce for just about anything – short of drinking it straight from the pan.
Ingredients
1½ pound flank steak
½ teaspoon salt
¼ teaspoon ground black pepper
Sauce:
4 tablespoons butter
2 cloves of garlic, minced
pinch of ground black pepper
½ teaspoon Worchestershire sauce
Cooking Instructions
Heat broiler. Season steak with salt and pepper.
Broil steak about 6-inches from heating element, turning once, about 8 to 10 mintues, or until medium rare.
Sauce: In small saucepan over medium heat melt butter. Add garlic, pepper, Worcestershire sauce and any accumulated steak juices.
Make it Faster
Two teaspoons bottled crushed garlic can be used in place of 2 minced garlic cloves
Tips & Tricks
Smash garlic cloves with the flat side of a large knife to easily remove the cloves' skin
Nutrition Facts
Servings per Recipe: 4
Amount Per Serving: 6 ounces Flank Steak and 1 tablespoon Garlic Sauce
Preparation Time: 2 minutes
Cooking Time: About 10 minutes
Ready In: 12 minutes
Servings: 4
Photo courtesy of recipes.kaboose.com.
Check out the entire article here.