I came across this scrumptious-sounding recipe for the holiday this weekend and it sounds really tempting — light and healthy, perfect for summer.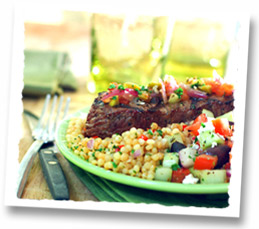 We're going to be grilling some steaks, too, this holiday. Try it and see what you think!
Steak Mediterranean
Ingredients
4 (4-ounce) lean ribeye steaks
1/4 teaspoon kosher salt
1/4 teaspoon freshly ground pepper
2 teaspoons olive oil
1 1/2 cups chopped red onions
2 cloves garlic, minced
1 1/2 cups chopped tomatoes
1 cup low-salt, fat-free chicken broth
1/4 cup white wine vinegar
2 teaspoons sugar
2 teaspoons dried oregano
1/4 cup sliced green olives
2 tablespoons capers
2 teaspoons grated lemon zest
2 tablespoons freshly chopped parsley (optional)
Preparation
1. Season steaks with salt and pepper. Brush with olive oil.
2. Grill steaks, covered with grill lid, over medium-high heat (350 to 400 degrees) about 8 to 10 minutes on each side, or until desired degree of doneness.
3. Sauté onions and garlic in olive oil for 3 minutes or until tender. Stir in tomatoes, broth, vinegar, sugar and oregano; bring to a boil. Add olives, capers and lemon zest; simmer until heated through.
4. To serve, arrange steaks on a serving platter; top with sauteed mixture and garnish with fresh parsley, if desired.