Here's an idea with a little kick for the holidays.
These can be served as appetizers — or if you're not very formal like us — they can be served as a fun meal. With company coming, these kabobs make for a great, quick, healthy option that everyone will like.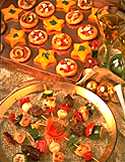 Holiday Meat and Vegetable Kabobs
1 cup fresh pearl onions
1/3 cup olive oil
2 tablespoons balsamic vinegar
1 tablespoon dried basil leaves
2 large cloves garlic, crushed
1 teaspoon salt
1 pound boneless, skinless chicken breasts
1 pound boneless beef sirloin
2 large red bell peppers, cut into 3/4-inch pieces
1 large green pepper, cut into 3/4-inch pieces
1 large zucchini, cut into 3/4-inch pieces
Soak 3 dozen 4-inch-long wooden skewers in water overnight. In a 1-quart saucepan over high heat, bring pearl onions and enough water to cover them to a boil. Reduce heat to low. Cover and simmer 3 minutes or until onions are tender. Drain. When cool enough to handle, peel away outer layer of skin.
In a medium bowl, combine balsamic vinegar, TABASCO® Sauce, basil, garlic and salt and mix well. Pour half of mixture into another bowl. Cut chicken and beef into 3/4-inch chunks and place in one bowl with vinegar mixture, tossing well to coat. In remaining bowl of vinegar mixture, toss cooked pearl onions, red and green peppers, and zucchini. Let stand at least 30 minutes, tossing occasionally.
Preheat broiler. Skewer one chunk of chicken or beef and one each of red pepper, green pepper, onion and zucchini onto each skewer. Broil 4 to 6 minutes or to desired doneness, turning occasionally.
Makes 3 dozen hors d'oeuvres.
Photo and recipe courtesy of Tabasco.com.