We're smack dab in the middle of "entertaining season." Are you lucky enough to be the entertainer soon?
This recipe is one of my absolute, all-time favorite appetizers. Whenever I serve Swedish meatballs they seem to disappear as fast as I can put them out.
And someone who shall remain nameless has been known to make an entire meal of these a time or two.
They're that good.
Just look at them!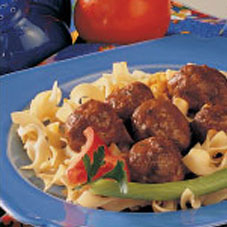 It is perfectly acceptable for these beauties to be a meal, especially when served over egg noodles.
I, however, have eaten approximately 32 meatballs at a party — each with a tiny toothpick in it that I had to first pull out.
Something tells me those were not meant to be dinner.
However you serve them, try this recipe and don't make fun of your guests for hogging them. That's what they're for!
Swedish Meatballs
(Serves 6)
1 lb. Ground Beef
1 Cup Bread Crumbs
2 Cups Heavy Cream
2 Eggs
1 pinch ground nutmeg
1 pinch ground clove
1 Medium Onion, minced
2 Cups Beef Broth
2 Tbsp. Flour
2 Tbsp. Butter
In a heavy bottom skillet, sweat the onion in the butter and reserve.  In a stand mixers bowl, add cream and bread crumbs and let sit for fifteen minutes.  Add eggs, nutmeg, clove and beef and onions and mix thoroughly until the mixture gets sticky, about five minutes.  Shape the mixture into golf ball sized meatballs and cook in the skillet over low heat until all of the meatballs are nicely browned.  Remove from pan and set aside.  Add flour to pan and cook for five minutes.  Slowly stir in beef broth with a whisk to avoid any lumps and cook for fifteen minutes.  Add Cream and reduce by one third.  Add meatballs and cook for twenty minutes.  Serve over buttered egg noodles.
Photo courtesy of rd.com.