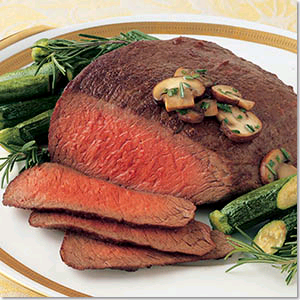 Feeling like a steak, but want to feel really, really good about eating it?
Try a London Broil. It's lean, it's flavorful, and paired with lots of yummy, summery vegetables it's just about totally guilt-free!
Grilled London Broil with Summer Vegetables
Makes 4, 10 oz. servings Prep Time: 15 minutes + marinating time
Cook Time: 10 minutes
1/4 cup red wine vinegar
2 T. Giant olive or Giant canola oil
1 T. Giant fresh thyme or oregano
2 large cloves garlic, minced
1/2 tsp. Giant ground pepper
1 lb Giant beef top round steak (London Broil)
1 cup Giant cherry tomatoes
2 medium Giant zucchini, sliced lengthwise
1 medium Giant yellow summer squash, sliced lengthwise
1 tsp. Giant olive oil
2 T. grated Parmesan cheese
For marinade, combine vinegar, oil, thyme or oregano, garlic and pepper in a food-safe plastic bag. Add steak to bag and turn to coat. Close bag securely and marinate in refrigerator 6 hours or as long as overnight, turning occasionally.
Toss tomatoes, zucchini and yellow squash with oil. Make an aluminum foil boat to contain tomatoes. Remove steak from marinade; discard marinade. Pre-heat your grill and place steak over medium direct heat. Arrange vegetables around steak. Grill steak, uncovered, 8 to 9 minutes for medium doneness, turning occasionally. Grill vegetables 6 to 10 minutes or until crisp-tender, turning occasionally.
Remove vegetables to a serving platter and sprinkle with cheese. Carve steak into thin slices against the grain.
Nutrition information per serving: 270 calories, 15 g fat, 5 g saturated fat, 55 mg cholesterol, 110 mg sodium, 8 g carbohydrate, 2 g fiber, 27 g protein.
Photo courtesy of nycotto.com.
Recipe courtesy of chicagotribune.com.