You can take the headline of this post to mean a few things:  Rose has a hero who is a steak, Rose's recipe for a steak hero sandwich or, well, that's all I got.
We'll go with number 2.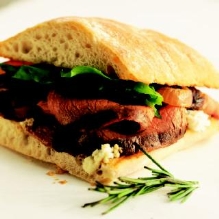 Check out this magnificent way to present some scrumptious beef steak . . .
Rose's Steak Hero
Caramelized Onions:
5 oz. butter
3 lbs. onions, sliced
1 Tbsp. garlic, minced
2 Tbsps. balsamic vinegar
Creole Mustard Aioli (Yield: 3 cups):
2 1/2 cups mayonnaise
1/2 cup creole-style mustard
2 tTbsps. garlic, minced
7 1/2 lbs. beef flank steak
1-2 tsps. salt
1-2 tsps. pepepr
24 individual ciabatta breads, split
1 1/2 lbs. blue cheese, crumbled
6 oz. spinach leaves
TO MAKE CARAMELIZED ONIONS: In rondo over medium heat, melt butter. Add onions and sautè until caramelized, stirring often. Add garlic and sautè 1 minute. Stir in vinegar. Cool and cover. (Yield: about 1 lb., 8 oz.)
FOR CREOLE MUSTARD AIOLI: In bowl, mix mayonnaise, Creole-style mustard and garlic. Cover and refrigerate.
FOR EACH SERVING, TO ORDER: Grill 1 steak to medium. Season with 1/2 tsp. salt and 1/4 tsp. pepper. Slice 4 oz. steak thinly at an angle across the grain. Cover and reserve the remaining steak.
Spread 1 Tbsp. Creole mustard aioli on each cut side of bread. Top bottom bread half with 1 oz. blue cheese, the warm steak slices, 1 oz. caramelized onions, 1/4 oz. spinach leaves and other bread half. Plate and serve.
Recipe and photo above courtesy the Cattlemen's Beef Board and National Cattlemen's Beef.