I'm a pretty basic cook.
I can cook some great meals, but I don't stray too far from what I know. I'm not usually very adventurous because I've failed a few times at new things. See the Salisbury Steak debacle.
However . . . I have a sister-in-law, Sandy, who is an accomplished cook with an Associate of Arts degree in the Culinary Arts from the Scottsdale Culinary Institute. She's worked at the Ritz-Carlton in Phoenix, among other schmancy places, preparing filet mignon and other delights for hundreds of people at a time. She also has an MBA and she's married to my brother, but that's another story.
Our family taps into Sandy's expertise every chance we can get. You can imagine who takes the lead in the kitchen at family gatherings. And every time I cook something with her I learn something new.
So it was time for me to branch out and I wanted to try Chateaubriand. I knew I could do it but I needed some guidance. And some step-by-step instructions.
I cried out, Help me, Obi-Wan! And the result was some e-mails from the master that are like gold to me.
Here's a little preview . . .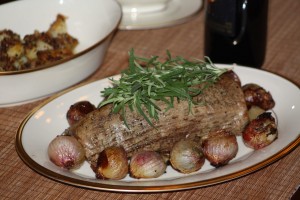 Yeah, I did that. But I needed some help. So here's what Sandy told me to do (in bold):
First thoughts on Chateaubriand-

-It is the center of the tenderloin of beef, the most delicate part

-In a restaurant, it is usually served as a portion for two people

-It is usually fairly uniform in size but may be tied to ensure even cooking.  You can get kitchen twine at the supermarket in the kitchen stuff aisle.  To tie, tuck in any narrow end and tie a square knot to start.  Go down about an inch on the meat, hold the string in place on the top of the meat, go around the bottom and loop or tie again.  It does not matter if you use proper technique or pretty knots, but if the meat is a uniform thickness it will cook evenly.
Note:  I did not do the twine because I actually felt like cooking it unevenly would be a good thing in my house. I like meat a bit more well done than my husband so I liked having both medium and medium well meat slices. For a dinner party, I'd definitely use the twine.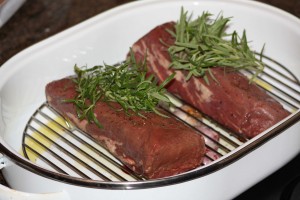 -Let the meat sit out for 1/2 hour before cooking in order to help even cooking throughout.  Preheat oven during this time to get it good and hot.  Season just before the meat goes into the oven.

-Use a roasting pan or heavy ovenproof skillet to cook the meat.  You may want to make a bed of shallots (member of the onion family) to the pan first if you want to make a pan sauce.  Shallots are much milder in flavor than onions and are a traditional accompaniment to delicate flavors like Chateaubriand. Peel the brown papery skin from about a pound of shallots (available next to the onions in most grocery stores).  Toss with a little olive oil in the roasting pan, until glistening (about 1 Tablespoon) and sprinkle with a teaspoon of kosher salt and some grinds of fresh black pepper.  Rub Chateaubriand with olive oil, season with salt and pepper too.
 -Traditionally it will be roasted at a high temperature (450) to medium doneness (or less).  I would only use olive oil, salt and pepper to season.  You may tie rosemary in the trussing string which would give it a little herbal taste.   Rare is 125-130.  Medium is 140.  Use an instant read thermometer or better yet, an electronic (ie the Polder) with the probe stuck in the middle the whole time.  After about the first ten minutes, baste the roast with addl olive oil or pan juices if it looks dry.  Toss the shallots to promote even browning.  A 2.5 pound roast should take about 30-40 minutes to reach rare doneness. 
-When the roast reaches doneness, use tongs to remove from the oven to platter and tent with foil to let the meat juices redistribute within the meat.  Reserve shallots to serving dish.  Add 1/2 cup of a good dry red wine and 1/2 cup homemade or low-sodium canned chicken stock to roasting pan and place over high heat to deglaze (remove brown bits from the roast and shallots which are stuck to the pan).  Stir constantly with a heatproof spoon or spatula until the mixture is slightly reduced and thickened.  Remove pan from heat.  At this point you may want to Monte' au beurre the sauce, which simply means to whisk in a few teaspoons of very cold butter, about 1 teaspoon at a time, to the pan sauce which will thicken and give a richness to the sauce.  Strain into a warm, not hot, sauce dish (you can just put a microwave proof dish on the microwave for 30 seconds or so).

Traditionally served with a potato side, often a Gratin or Dauphinoise. 
So, dear friends, the moral of this story is that it is completely possible for us civilians to create an amazing meal if we have the right instructions.
And when my husband walked in our door to the smell of roasting shallots, beef drizzled in olive oil and fresh rosemary, he said he thought he had stepped back into the 1950s.
He then asked me to fetch his slippers, pipe and scotch on the rocks.
I told him to take a hike.
Nevertheless, we enjoyed such a good meal that he begged me to make it again. And I will. Only next time I will invite some people over to show them I really can make something great.
I think what made all the difference here (besides starting off with really high quality beef) were Sandy's exact instructions. You'll notice she told me where specifically to find the shallots in the supermarket and her cooking time and meat thermometer estimates were right on.  
Also, I'm pretty pleased that I can now Monte' au beurre something. Just don't tell anyone it's really only whipping cold butter into the sauce.
And, since everyone doesn't have a sister-in-law like Sandy, I'm willing to share mine. I'll be posting lots more of our discussions in the future for your benefit, too.
Next time, I'll share with you some other ways Sandy told me I could prepare my Chateaubriand (I got mine here), along with a bernaise sauce that might be right up your alley.
Update:  I have been informed that only half-wits refer to the sauce as "bernaise." It's béarnaise. Wikipedia told me so. My apologies to one and all.