My husband and I just got back from a long weekend in New York City. We saw the Yankees play before they tear down their old stadium and we met a group of our college friends there.
Since NYC is the unofficial steakhouse capital of the world, one night we went to Sparks Steak House. The ambience is amazing and if you know your mob history you know that mafia boss Paul Castellano was murdered out front in the mid-'80s.
We tried not to think about the murder part but we figured if it was good enough for mob bosses who could go anywhere they wanted it was good enough for us.
The meal was, indeed, great, but it's the little things that make or break the experience for me. And I gotta tell you, no matter where I go I always end up wishing I had cooked my own steak meal at home.
First of all, they do not have bacon for your baked potato. I'm sorry, that's a must for me. Where I come from, EVERYONE puts bacon on their baked potato.  And, considering that and butter is all I like on my potato, mine was pretty boring.
Then we get to the steak. The quality of the meat is wonderful. This is NYC for Pete's sake! But I like mine done medium well. And that apparently means different things to different people.
To me, that means very little pink.
On a really thick steak that's hard to do. And, frankly, they just don't wanna.
I'm not big on sending stuff back to the kitchen because I'm always afraid it will come back with invisible spit on it. So, I just eat it as is. Even if it's not exactly the way I want it.
That's disappointing.
Then, if you've been reading this blog for any length of time you know I prefer Teriyaki sauce on my steak. Gee, do ya think they're going to have that? They'd laugh in my face.
So I suffer through.
I figure they can at least fix the bacon thing before I go there next. But, wow, do you think they have a Suggestion Box at the front?
Heck no.
And if they did here's what they would do to my little suggestion . . .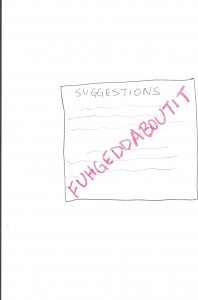 So, as we were eating, a little phrase I tell my kids all the time kept running through my head, "You get what you get and you don't throw a fit."
My husband wouldn't mind putting my steak back on the grill until it was perfectly done. And I'm sure he would buy me bacon for my potato (that is, if he EVER went grocery shopping).
But my husband doesn't work at Sparks. So since he works for me, I think I'll put him to work on our own grill pretty soon . . .