Well, we made it! And we're all in one piece and very happy to have arrived in Florida.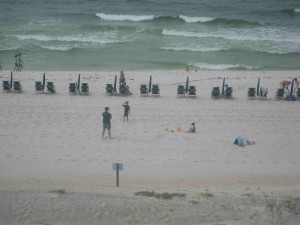 Our drive went pretty smoothly. But we did get to experience many, many oddities of humanity along the way.
We traveled down lots of two-lane highways so we got to see fellow travelers going the other way up close and personal. And I have to say, if I never see another pair of bare feet perched on the dashboard again it will be too soon. I counted 11 pairs of feet in Alabama alone.
The state of Mississippi is beautiful and green and it provided lots of entertainment for us. One of my favorite sights was the yellow fiberglass cow balancing on its front two feet with the words "Jesus Saves" emblazoned on its side. This was in someone's front yard. Talk about a sacred cow!
And speaking of cows, as soon as we got here I ventured out to the local supermarket to get some basics and prepare for our steak dinner later in the week. I got potatoes and all the fixins, A-1 sauce for the hubby (don't judge) and Teriyaki sauce for me.
I love ya, Florida, but I'm not buying your supermarket steaks. I'm having the good stuff delivered!
Stay tuned for more adventures so far from home . . .