So, Easter's over and you've got all this Prime Rib left over.
What to do with it?
Never fear. Sandy's here with some ideas to keep the love flowing from your kitchen.
Check it out . . .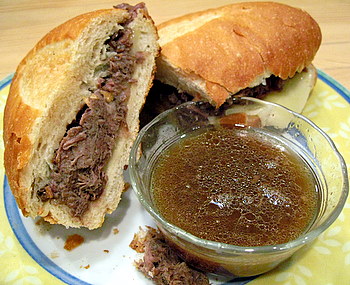 Fabulous Roast Beef (French Dip) Sandwiches
If you happen to have any of your fabulous Prime Rib or beef roast left over, one of the best ways to enjoy it the next day is to heat it, on the stovetop, in the beef juices left over from your initial cooking.  If you do not have leftover juices, (or if you made it all into gravy) heat a good quality beef consommé to a simmer. 
Use a sharp knife and a sanitary cutting board.  Slice the cold beef as thinly as possible, trimming it to your personal taste.  Prepare your French rolls and any side dishes.  Whether you toast the rolls or not is personal preference.  Butter or garlic butter may be delicious too. You may even want to grill onions and melt some provolone cheese on the roll (kind of a Philly cheese steak kind of thing, not a French Dip in my book). 
I think a nice German potato salad or some good quality potato chips would go great with this sandwich.  Get everything else ready.  Make drinks, set the table.  Finally, one portion at a time, heat the sliced beef in the consommé or beef jus. Pile the beef on the waiting roll, serve a little of the consommé on the side for dipping, and VOILA!
An alternate sandwich would of course be a hot roast beef sandwich, traditionally served open faced.  Good quality white bread, piled high with roast beef heated in gravy.  Also yum!
Photo courtesy of bakingbites.com.