This recipe is for a fancy-Dan prime rib that is to-die-for. It's gently smoked and garlicky. YUM.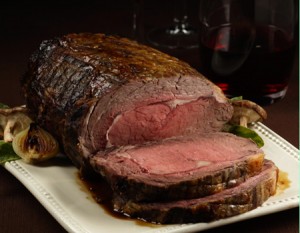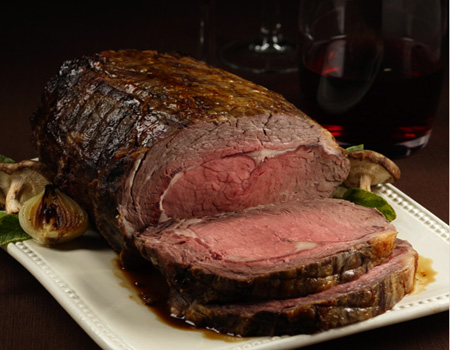 I have an outdoor smoker that I love. You can check out the one I have here. I have the model 1400 and I really dig it.
One thing about the recipe below and my smoker is that I don't have to soak the wood chips in water for use in mine. You just put the wood chips directly in the wood box — sparingly. So keep that in mind depending on what kind of smoker you're using.
And check out the selection of prime rib here. Oh, sweet juicy goodness.
Grilled, Smoked Prime Rib
(serves six to eight)
1 5 lb. Prime Rib Roast
2 Clove Garlic minced
2 Tbsp. Ancho Chile Powder
1 Tbsp. Ground Cumin
1 Tbsp. Paprika
1 Tbsp. Oregano
1 Tbsp. Sage
Salt and Pepper
Wood chips for smoking, such as hickory, apple or cherry
Combine the spices and garlic in a bowl with the garlic, salt and pepper and mix to combine.  Coat the Prime Rib heavily and evenly and set aside until the coals are ready.  Get coals ready for grilling and soak wood chips in water, wine or apple juice for smoking.  When the coals are extremely hot, sear the roast over the hottest part of the grill evenly on all sides.  Add the wood chips to the smoker and move meat to the coolest part of the grill.  In a flat smoker, this is farther from the firebox.  In a column smoker, this is higher up from the coals.  In a separate outdoor smoker, this is at the very bottom. The ideal smoker heat and time is 300 degrees for two hours.  If you don't have a thermometer on your smoker, continue checking the coals and/or wood chips.  Use a meat thermometer until your roast has an internal temperature of 130 degrees.  Remove from the smoker and let rest thirty minutes before slicing.