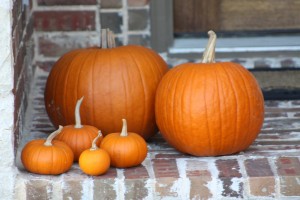 One more day until Halloween! Are your li'l punkins ready?
Here's another great meal idea for this fun holiday from the Texas Beef Council. Be sure to read the Suggestions section for cute sandwich topper ideas like a black olive spider, cheese curl devil horns and green onion broomsticks.
What fun!
SPOOKY SLOPPY JOES
Ingredients
1 lb. ground beef
1 small onion, chopped
1/2 cup chopped orange bell pepper
1 can (8 oz.) tomato sauce with basil, garlic and oregano
1/2 cup chili sauce
1 Tbsp. Worcestershire sauce
1/2 tsp. salt
1/8 tsp. pepper
4 Kaiser rolls, split
Instructions
Brown ground beef with onion and bell pepper in large nonstick skillet over medium heat 8-10 minutes, or until beef is no longer pink, breaking up into 3/4-inch crumbles. Pour off drippings. Stir in tomato sauce, chili sauce, Worcestershire sauce, salt and pepper. Cook an additional 3 minutes or until heated through; stirring occasionally.
Spoon equal amounts of beef mixture on bottom half of each roll. Decorate beef mixture or roll tops with vegetable decorations, as desired (see below). Close with top half of each roll.
Suggestions
To make one spider: Cut pitted black olive in half lengthwise and place each half slightly overlapping in center of ground beef mixture or on center of roll top. Slice orange bell pepper into eight 1/4-inch thick strips. Place strips in spoke fashion around olive to make legs. Cut two small pepper pieces to make antennas. Place above olive slices.
To make jack-o-lantern face: Cut out pumpkin shape from Cheddar cheese slice with cookie cutter. Using small thin-bladed knife, cut out mouth, nose and eyes from pumpkin shape. Place cheese cutouts on top of ground meat mixture or on roll top.
To make cheese curl devil horns: Insert two cheese curl snacks vertically into roll top.
To make green onion broomsticks: Cut off the root end of green onion with small thin-bladed knife. Carefully cut thin slits 1/2-inch deep lengthwise into the white part of the onion. Soak sliced part of onion in cold water so ends curl up. Place on plate with Spooky Sloppy Joe.