I always like winter recipes that make me feel warm and satisfied.
And this one does not disappoint.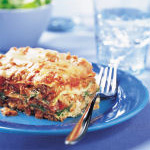 It's a different take on the typical lasagna recipe. It's got arugula and spinach mixed in with tasty ground beef.
Try this one on those freezing, wintry nights!
Beef, Arugula and Spinach Lasagna
Ingredients
1-1/2 lbs. ground beef
2 tsp. minced garlic
1-1/4 tsp. salt, divided
3/4 tsp. pepper, divided
4 cups prepared pasta or spaghetti sauce
2 cups loosely packed fresh baby arugula (about 1-3/4 oz.)
2 cups loosely packed fresh baby spinach (about 1-3/4 oz.)
1 container (15 oz.) fat free ricotta cheese
2 egg whites
2 Tbsp. chopped fresh basil
2 Tbsp. chopped fresh oregano
9 uncooked, oven-ready (no boil), lasagna noodles
1-1/2 cups reduced fat shredded mozzarella cheese
Instructions
Heat oven to 375°F. Brown ground beef with garlic in large nonstick skillet over medium heat 8-10 minutes, or until beef is no longer pink, breaking up into 3/4-inch crumbles. Pour off drippings; season with 3/4 tsp. salt and 1/4 tsp. pepper. Stir in pasta sauce. Set aside.
Combine arugula and spinach. Set aside. Combine ricotta cheese, egg whites, basil, oregano, remaining 1/2 tsp. salt and 1/4 tsp. pepper in small bowl.
Spread 1 cup meat sauce over bottom of 11-3/4 x 7-1/2-inch glass baking dish. Top with 3 noodles, half of the ricotta mixture, half of the spinach mixture, 1/2 cup mozarella and 1-1/2 cups meat sauce. Repeat layers. Top with remaining 3 noodles and meat sauce.
Cover with aluminum foil. Bake in 375°F oven 45 to 50 minutes, or until noodles are tender and sauce is bubbly. Remove foil; sprinkle with remaining 1/2 cup mozzarella. Bake uncovered 5 minutes or until cheese is melted. Let stand, loosely covered, 10 minutes before serving.
Serves 6-8.
Suggestions
Oven-ready noodles and prepared pasta sauce makes this a breeze to prepare. Make double and freeze for future meals.
Photo and recipe courtesy of TxBeef.org.