If you've been reading this blog, you know my sister-in-law Sandy takes every meal to another level of flavor-infused goodness.
Even something like tacos become THE BEST TACOS YOU'VE EVER HAD.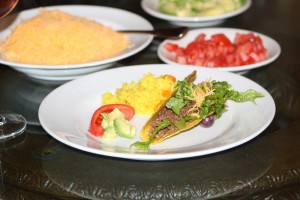 Here, Sandy tells us just what she did to wow our family with a smorgasbord of flavors, colors, and amazing scents — all the things that make a great meal.
Taco Night.  Our first meal in Florida as a large group came together pretty quickly.  Nothing fancy, but everyone really enjoyed it.  I think there were about 14 of us on taco night, and this meal came together in less than an hour. 
I think the secret to good tacos is using good quality beef and cooking it well, without quite as much seasoning as those little packages suggest you use.  Try using a little less (I use only about a third a package per pound of meat) and seasoning the meat with a little salt and fresh ground pepper and your favorite salsa or picante sauce.  This is a super quick meal that is fun for a crowd, and can really be put together very quickly if you get organized.  Do all of your chopping to start, then start on what takes longest.  Get your guests to help – chop garnishes, make margaritas, etc.
0.  Prep Garnishes and/or recruit volunteers to prep garnishes and get drinks going.
1. Begin Rice.  Dice all of the onions needed for the recipes (1 ½) and peel and dice carrot for rice. Start rice pilaf by cooking vegetables, and then adding rice, cooking liquid and bring to a boil. Reduce to a simmer, cover and set timer for 20 minutes. 
2. Begin Black Beans and Taco meat  : chop bacon and add to cold frying pan. Turn heat to medium and cook bacon until brown, add beans and picante sauce and cook over low heat until thoroughly warmed thru and beans are tender.  Meanwhile, heat oil and begin taco meat preparation as directed below. Add liquid to beans as necessary to prevent beans from burning. Mash beans as desired with potato masher, fork or handheld blender.
3. Preheat oven for crispy taco shells when the rice has just a few minutes left.  The taco shells take less than 5 minutes to warm up- don't let these suckers burn, they go quickly!
Quick Tacos for a Crowd
1 Tbsp Canola or vegetable oil
1 medium onion, diced small
3# Ground Beef, 85%-95% Lean Ground Sirloin or other good quality Beef
1 ½ teaspoon kosher salt
1 teaspoon fresh ground pepper
1 pkg taco seasoning (for 1# ground beef)                                                                                
Heat oil over medium/high heat in large heavy bottomed skillet or saucepan until shimmering, then add onion and cook until translucent.  Add ground beef, salt and pepper.  Cook until ground beef is brown.  If there is excessive fat, beef may be drained at this point.  Add taco seasoning and water as directed on package.  Cook as directed, adding salt and pepper and or hot sauce as necessary and to taste.
Scrumptious "Refried" Black Beans
6 strips bacon, chopped
2 cans black beans or "refried" style black beans
½ cup picante sauce or salsa
½ cup cheddar or Monterrey jack cheese
Spanish Style Rice
2 carrots, peeled and diced
½ onion, diced
1 package yellow rice, plus water for package directions (may substitute ½ cup picante sauce for ½ cup of the water called for on the package directions)
Taco bar Condiments:
Shredded Lettuce
Diced Tomatoes
Salsa
Diced Avocado or Guacamole
Shredded Cheese
Crunchy Taco Shells
Tortilla Chips