I love having people over to share good food.
And, honestly, we like to serve something that involves beef — steak, burgers, ribs, etc., etc.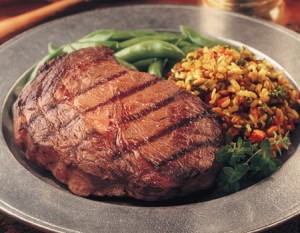 So it's always nice to learn new ways to get the meal on the table with the least amount of stress. And I like to minimize the cold/soggy sides syndrome that seems to happen when I can't keep everything hot enough to be served at the same time.
The following awesome tips come to us courtesy of TheDinnerPartyPlanningSite.com.
Now, go plan that next par-tay and check your stress at the door.
The Secret of Serving a Steak Dinner – Stress-Free

Steak Dinner

Wouldn't you love to serve a steak dinner to your guests? Imagine setting your table with steak knives for the main course. Imagine yourself proudly serving up a sizzling sirloin, or a luscious prime rib or a filet mignon to die for.

Whatever steak cut you choose, people love a sizzling steak dinner. So how can you add a steak dinner into your repertoire of dinner party recipes?

What is the secret of a steak recipe you could make and still stay stress-free?

The Dinner Party Planning philosophy is all about keeping you, the host or hostess, stress-free, letting you enjoy your own dinner party.

What kind of steak recipe would fit into the Dinner party planning philosophy? After all, those sizzling steaks we're talking about have to be made at the last minute, don't they?

Yes, it's true that these steaks are almost always cooked at the last minute. You can't throw them in a slow cooker or bake them in the oven. (Well, you could, but you wouldn't come out with that sizzling steak we're talking about.)

So how can you cook a steak dinner without disappearing to the kitchen and staying there the minute your guests arrive?

Here's the secret – and it's a simple one. You do it by making the steak the only item you need to cope with at the last minute. That way you can choose almost any steak recipe you like for your stress-free dinner party.

You can choose sirloin steak, prime rib steak, filet mignon, just as long as you choose steak that is tender enough to grill. If in doubt, ask at your butcher or supermarket.

Just make sure that all the other items in your dinner party menu are make-ahead or ready to the point where you just need to turn the microwave on.

A stress-free steak dinner menu for 6 people

Here's a menu with items that are all fuss-free or make-ahead except for the steak itself.
• Shrimp ring (30 pieces or more) with lemon garnish
• Store bought pate (a piece about the size of a deck of cards) with melba toast
• Baby carrots with parsley garnish (See directions below)
• Make ahead Duchess potatoes (see recipe below)
• 6 to 8 filet mignons about 1" thick and about ¼ pound each. The 2 extra filets are to slice and serve small seconds if you wish, otherwise just buy 6. (See recipe below)
• 12 dinner rolls
• Store bought dessert such as a cheesecake to round off this elegant meal

Recipe directions for make-ahead Duchess potatoes

Ingredients
• 6 to 8 medium potatoes, cooked
• 3 beaten egg yolks and 1 whole egg (you'll need the whole egg when you're ready to cook the servings)
• 1/3 cup of cream
• ¼ cup of butter, melted
• dash of salt and pepper

Prepare and freeze Mix all the ingredients together EXCEPT the whole egg. Beat the mixture until it is light and fluffy. Spoon individual serving-size mounds or pipe them (piping looks so fancy!) onto a baking sheet.

Make ahead to this point and freeze until the mounds are solid. Then transfer them into freezer bags or containers and store them in the freezer until you are ready to use them.

Cook Mix a beaten egg with about a tablespoon of water. Put the mounds onto a lightly greased baking sheet and brush them with the beaten egg and water mixture. Cook in an oven about 425°F for about 10 minutes, until nicely browned.

You can take them out of the oven and then pop them back in after you have finished broiling the filet mignon. Just make sure you have turned the oven OFF. The leftover heat in the oven will keep your potatoes nice and hot until you are ready to put them on the table.

Recipe directions for baby carrots
Any time on the day of your dinner, just wash them and place them in a microwavable dish with a couple of tablespoons of water, and cover with saran wrap. When you're ready, microwave for about 6 minutes. To serve, dab with butter and garnish with parsley.

Recipe directions for broiling your filet mignon
To broil filets, place steak about 3 or 4 inches from the heat. Broil about 5-6 minutes per side for medium rare, a couple of minutes longer for medium.

If you aren't used to cooking filet, a meat thermometer will help you keep from overcooking. Just insert into the piece you plan to serve yourself if you're worried about piercing the meat.

The meat thermometer should read about 120°F for rare, 135° for medium rare and 130°F for medium.

Take the filets out of the broiler and let them rest for about 5 minutes before serving.

Steak knives start people anticipating something delicious

Don't forget to set your table with your steak knives. You probably don't need steak knives with filet, it is so tender. But it sets the atmosphere. When your guests look at your dining table and see steak knives, they know they can expect something special. Give them the pleasure of anticipating your delicious steak dinner.

Enjoy serving a steak dinner without stress!