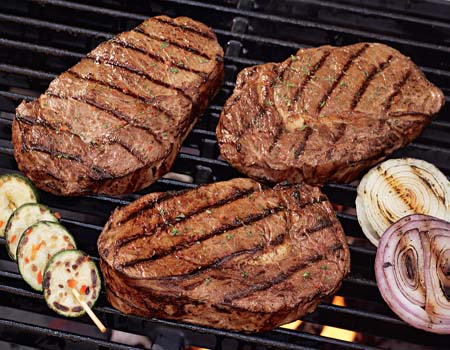 Oh, man, does a steak butter give steaks an amazing flavor or what?
Nothing beats that butter-drenched flavor when you bite into a ribeye steak.
So fire up the grill and try out this delicious pancetta butter recipe on some grilled ribeye. It's rich and buttery and it really brings out the meaty flavor of the ribeye steak.
Pancetta butter and ribeyes are a match made in heaven!
Grilled Ribeye with Pancetta Butter
Ingredients:
4 10 oz. ribeyes
2 3 slices pancetta (or bacon)
1 stick unsalted butter, room temp.
1 tbsp. chopped shallot
1/4 tsp. chopped garlic
1 tsp. chopped parsley
juice and zest of 1 lemon
salt and freshly ground pepper
Directions: Cook pancetta in a pan, saving rendered fat. After it's cooled, chop pancetta and mix with reserved fat and butter in a bowl. Add shallot, garlic, parsley, lemon juice and zest. Mix and season with salt and pepper to taste. Place on parchment paper or plastic wrap, rolling to create a tube. Put in refrigerator until ready to use.
Grill steaks to desired doneness. Let steaks rest for 5 minutes. Remove butter tube from refrigerator and slice, placing a palette of butter on each steak.
Servings: 4
Source: The Kansas City Steak Company