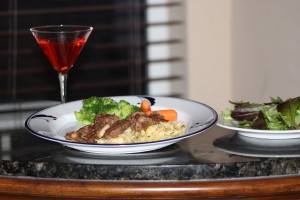 While we were on our holiday vacation Sandy prepared a number of meals that dazzled us all.
I helped if you count handing her a spatula and stirring sauces while sneaking tastes as "helping."
I did soak it in and I learned quite a bit — as I always do around her. So, she's written down her "tips" for making the most tender of tenderloin tips in a delicious red wine sauce. Now we can all refer back to her thoughts when we're in our own kitchens trying to recreate the yummy goodness she masterfully put together.
These really were so flavorful and the smell filled the house with great anticipation before the meal was ready. We didn't have to find anyone to tell them dinner was on. They were all salivating around the periphery of the kitchen, waiting to pounce.
May your crowd do the same!
Here's what Sandy says . . .
This is one of those really flavorful quick dishes that you can prepare pretty easily with a great cut of meat like tenderloin tips.  This recipe can also be prepared with a tougher cut of meat (i.e. stew meat) but the meat would have to simmer for 2-3 hours in the sauce in order to tenderize it.  In the following recipe, the tenderloin tips are browned first in batches to insure a good crust on each piece of meat.  When the sauce is totally finished and the side dishes are completed, table set, etc. the meat is added to the sauce just for a few minutes to re-warm and to cook to desired doneness.
When browning the ingredients, using a lower (medium) heat is intended to prevent the bottom of the pan from getting too brown or burning.  If at any point the fond (that brown stuff on the bottom of the pan) is getting really brown, go ahead and use a little wine to deglaze the pan.  Just pour in a little, use a wooden spoon to loosen all the brown bits.  Pour this liquid in the casserole dish with the 'done' items – it will become part of the delicious sauce.  If the fond gets really dark, smells burned or even just starts to burn, use water to deglaze the pan, and just dump this little bit of liquid into the sink.  Clean the pan well and then add fresh oil, heat to smoking and begin again.  You never want to cook meat in a pan that already has burned on the bottom, and you don't want to make a sauce from a burned fond.  You are building up layers of flavor, and the burned flavor will overpower all. 
Beef ready to be added to sauce
If you do choose to prepare with a different cut of meat which requires longer cooking, reserve the bacon, adding it just before serving (or leave it out).
Tenderloin Tips with Red Wine Sauce
 
(Serves 10)
6 slices bacon, cut into 1 in pieces
1 large onion, diced
8oz mushrooms, sliced
Canola or vegetable oil as needed
3 # Tenderloin Beef Tips, cut into like-sized pieces
Kosher Salt, pepper
1-2 cups of a nice quality fruity red wine, i.e. Merlot or Pinot Noir
2 ½ cups good quality well seasoned beef stock (2 cans Campbell's Beef Consommé)
3 Tbsp Flour
4 Tbsp Water
In a heavy-bottomed large pan over medium heat, brown bacon pieces.  When they are crispy and brown, remove to a glass casserole.  Add onions to the bacon fat mixture and cook until golden brown.  Add mushrooms, seasoning with 1 teaspoon salt and a few grinds of fresh pepper.  When mushrooms are thoroughly cooked, remove to glass casserole dish with the bacon pieces.   Turn heat up to medium high and add about a teaspoon of canola oil, or enough to lightly coat bottom of the pan.  Season beef with salt and pepper, add first batch of beef pieces, only enough to barely cover bottom of pan.  Each piece should have its own piece of pan 'real estate' to cook in.  Allow to brown on first side for 1-3 minutes, or until nice and brown, then turn carefully with tongs.  When beef is brown on all sides, remove to casserole dish.  Repeat with remaining beef until it is all browned.  At any point, if the fond in the pan is too brown, clean the pan as directed above.
Add remaining wine to the pan and cook over medium heat, using a wooden spoon to help deglaze the pan.  Cook a few minutes until wine is reduced by half.  Add beef stock.  If using a canned product, I usually add a few small pieces of carrot and onion to the stock at this point to remove the canned flavor.  Cook the sauce 15 minutes or so at a gentle simmer, tasting for flavor.  If you want, remove carrot and onion pieces from sauce before serving. Meanwhile, prepare either egg noodles or mashed potatoes or rice to enjoy with your beef tips.  Prepare a green vegetable.  Have a glass of wine. 
To thicken the sauce, prepare slurry from the flour, slowly adding the water and stirring until no lumps remain.  Add more water until the slurry is the consistency of heavy cream – then add this mixture to the simmering sauce.  Stir constantly until the slurry is mixed into the sauce.  It will begin to thicken as soon as the sauce boils, but should be gently cooked for an additional five minutes or so to cook out the flour taste.
5 minutes before serving, add beef, mushrooms, meat juices, bacon and onion to the sauce mixture to re-warm and complete cooking.  5 minutes should be about right for medium doneness – test.
Serve over buttered noodles with a green vegetable for a gorgeous and flavorful company-worthy meal.
Oh, yum. See the martini?
There will be more to come  . . .  we'll talk soon!