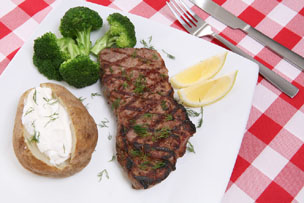 Kathy Maister over at StartCooking.com has some good advice on cooking a great steak.
I always listen up when someone with experience gives me some pointers. Saves me the aggravation of making the same mistakes. It's how we EVOLVE, people. Right?
Kathy tells us here the best ways to fry, oven roast and grill your steaks. And pay particular attention to the comments from others at the end. Some of them contain some real gems. People are so creative!
Try them out and see what YOU think!
Photo courtesy of StartCooking.com.