Question:  What kinds of steak are appropriate for Halloween?
Answer:  Whatever steak you choose!
It's always fun to really get into the holiday and create a memorable meal with steaks that reflect the Halloween spirit. You know, scary – but not TOO scary.
If you customize a recipe just right you can achieve something spooky and tasty all at the same time! And you can truly take any of your favorite steak recipes and make them creepy. Just dig deep and use your imagination!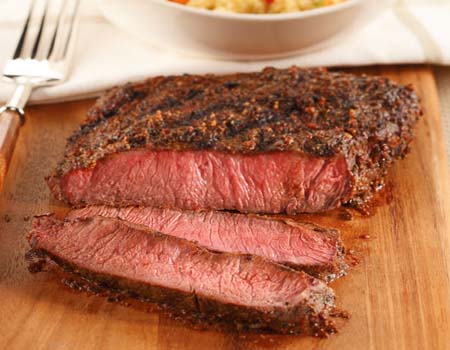 For instance, you can try this recipe for Flat Iron Steaks with KC Barbeque Glaze. The glaze can be turned into fake blood and you can really have a good time playing that up. Just remember to have some on hand WITHOUT the fake blood for those who are a little squeamish. (Okay, me. I'm a little squeamish. But I can handle it. I think.)
This is one holiday where you can really have fun with skewers. Preferably wooden. Those are more Halloweeny. Grill up some tenderloin tips, season them up well and run a wooden skewer through the middle of each one, then hang the skewer with the beef tip on it over the top of a drinking glass. It looks pretty creepy but it's oh-so-delicious!
Or, simply stab a skewer right into the middle of your T-bone and serve it up that way on a plate. It gives it a vampire-being-stabbed-through-the-heart vibe. Again, scary, but so, so tasty.
And, this might be the time to introduce Steak Tartare to the neighborhood. Raw beef can definitely be used in a creep-inducing way. Just remember in the back of your mind that it's really a delicacy and it's all going to be okay. That's what I tell myself.
Your Halloween recipes can include dripping "blood" (ketchup) or some oozing pesto sauce. That one gets me every time. It looks like some kind of bodily fluid leaking, but it's really delicious.
Tell me, do you have any famous Halloween recipes? Share them here!