HAPPY MEMORIAL DAY, EVERYONE!
This was the scene in my parents' front yard and all around our area. It's been a very patriotic weekend — just the way it should be.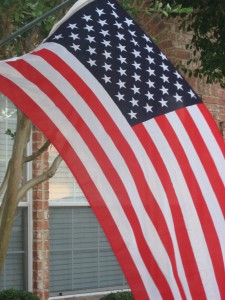 We've celebrated so far by eating LOTS and LOTS of meat.
Yesterday, we gathered my family, my parents and my brother, his wife, his mother-in-law and my niece and nephew for ribs and brisket.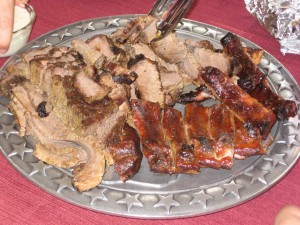 Around these parts, we call it brisket. In some areas of the country it's called tri-tip and others the same cut of beef is used to make corned beef.
Whatever you call it, we smoked them both in the smoker for a long time and it was all really tender and flavorful.
You can see in the photo no one would keep their mitts off the plate long enough for me to take a picture. That meat was decimated by the time we were done. No leftovers around here.
We've done lots of swimming — although it's not nearly as warm as I'd like it. But that NEVER stops the kids. They don't mind swimming with goose bumps.
I hope you're having a great weekend, too!