We have a new member of the family!
So, it's not a puppy and it's not a child, but she's just as cute!
I'm almost as excited about her as I was about my two boys. And THIS delivery was much easier, let me tell you. (Thanks to Ron and the guys over at Home Depot.)
Here she is — our new baby grill . . .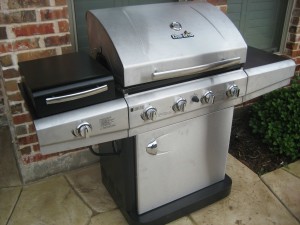 We're looking forward to working her hard. She's got to earn her keep around here. No one gets a free ride. Why, I had to walk 5 miles to school every day with no shoes, in the snow, uphill . . .
We'll miss our little Weber friend. But, gosh, this one is much cuter. And isn't that what REALLY matters in life?
Have a great Memorial Day weekend. We'll be grilling and enjoying time with our family. I hope you do, too!