We're trying to eat in as much as possible here on our vacation. We've done the restaurant scene around these parts for a few years and we usually leave disappointed.
Granted, some of that is due to the fact that we've always had little ones in tow. Meltdowns are a given when you're waiting an hour for a table after a whole day running and playing in the sun.
So this time we decided to get smart. We are cooking up a storm and loving it.
Last evening, it was spaghetti in a meat sauce made with ground sirloin and ground hot sausage. It was divine. Take a look . . .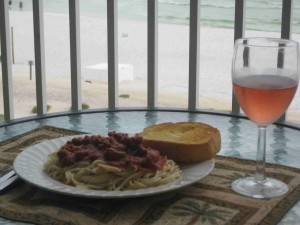 For us, a leisurely meal made exactly how we like it — and that amazing view — is heaven on earth.
It's funny how "heaven" for us always includes some sort of beef. Uh huh, just wait 'til it's steak night!