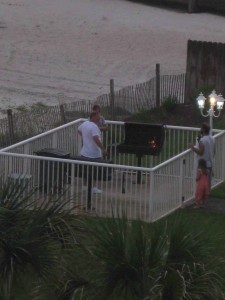 Taking this photo felt like some Dateline NBC investigation. Covert. Clandestine.
All right, so it's not as bad as I'm making it out to be. I'm sure these guys are very nice people. The fact is, I just don't know them.
So why would I want to put my steaks on the grill right after them?
Here at the beach I don't have the luxury of my own grill from home. And because I don't know what exactly these people have grilled before me — and how well they clean up after themselves — I refuse to use the public grill that's been out in the elements with sand and who-knows-what-else scattered on it.
So, I brought my George Foreman grill from home.
Better to be safe than sorry.
My steaks were delivered yesterday right to my door . . . and tonight we feast! Once again, George saves the day for us.