Looking for an entire, ready-made Memorial Day menu?
Look no further than this little carb-smart baby here.
It includes an ENTIRE menu, shopping list and recipes for all of this . . .
T-Bone Steaks With Grilled Onions
Cucumber Bullseyes
Deviled Eggs
Sesame Green Bean Packets
Company Broccoli
Down Home Cole Slaw
Cauliflower Fauxtato Salad
Cherry Coke Salad
Georgia Peach Iced Tea
Cherry Lemonade
Couldn't you just die? It all sounds so delicious I'm ready for Memorial Day to happen RIGHT NOW.
Look, even President Obama would wait in line for some of this . . .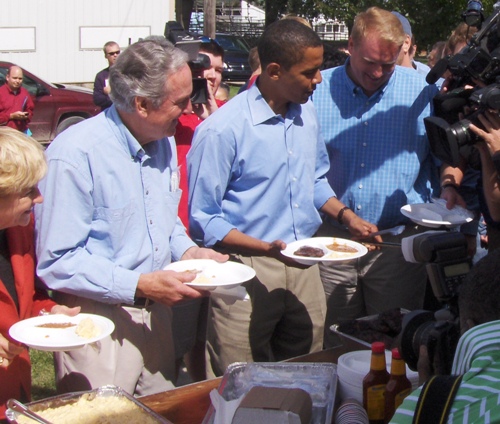 So head on over to this link if you want to get crackin' on your shopping list for Memorial Day weekend. Wheeee!!
Menu courtesy of carbsmart.com.
Photo courtesy of chetculver.com.